An Overview of New Testament Geography
by Felix Just, S.J., Ph.D.
---
Student Goals:
to get a sense of the geographical flow of the four canonical Gospels and the Acts of the Apostles;
to learn about the major NT events that happened in the following Roman provinces and cities;
to be able to identify these provinces and major cities (esp. the capitals) by location on a map:

see the long list of Online Maps from the "New Testament Gateway" website;
or see the collection of Bible Maps on this website (access restricted to current students)
or see the maps in the back of most good "Study Bibles."
Notes:
Since borders frequently shifted, there are some differences between the political geography at the time of the birth of Jesus (ca. 4 BCE), the death of Jesus (ca. 30 CE), the ministry of Paul (ca. 40-64 CE), and the writing of the other NT books (ca. 70-100 CE).
The names of the ROMAN PROVINCES (or other significant regions) are in bold capital letters below; their first-century capital cities are in bold italics; other important cities and towns are in small bold print.
---
PALESTINE (and Its Environs) during the Lifetimes of Jesus & Paul; mostly ruled by the Herodian Dynasty: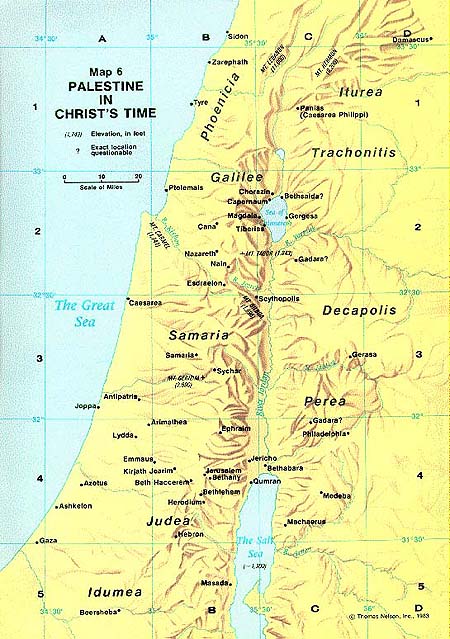 GALILEE – part of the Kingdom of Herod the Great, 40-4 BCE; part of the Tetrarchy of Herod Antipas, 4 BCE – 39 CE
Sepphoris & Tiberias – political capitals during the first century, but not mentioned in the NT! (so was Jesus ever there?)
Nazareth, Nain, Cana – towns in the interior of Southern/Lower Galilee
Capernaum, Bethsaida, Chorazin, Magdala – towns on or near the shore of the Sea of Galilee
SAMARIA – core of ancient (Northern) Kingdom of Israel; place of early Christian expansion (John 4; Acts 1:8; 8:1-25; 9:31; 15:3)
Samaria or Sebaste – capital in ancient & Herodian times (same place, name changed)
Sychar – smaller town near Jacob's well (cf. John 4); possibly ancient Shechem
JUDEA – at times a separate province; at other times a sub-province of the Roman Province of SYRIA
Jerusalem – Jewish capital; site of the Temple, thus the center of religious and cultural Judaism, until its destruction in 70 CE

locations in/near Jerusalem, especially in John's Gospel: Pool of Bethesda, Pool of Siloam, Praetorium of Pilate, House of Caiaphas, Gethsemane, Kidron Valley, Golgotha, etc.

Bethany, Bethlehem, Emmaus, Arimathea – smaller villages important in the four Gospels
Caesarea – seat of Roman Government; site of Paul's imprisonment (Acts 8:40; 9:30; 10:1-24; 11:11; 25:1-13; etc.)
JORDAN RIVER VALLEY and PEREA (Trans-Jordan) – region "across" the Jordan river from Judea; also ruled by Herod Antipas, 4 BCE – 39 CE
Jericho – possibly the world's oldest city; in the Jordan river valley; Jesus gives sight to blind Bartimaeus (Mark 10:46-52 & par.)
Qumran – ruins on an ancient settlement, most likely a "monastery" of the Essenes
Dead Sea / Salt Sea – lowest spot on earth
IDUMEA – the region south of Judea, conquered by the Maccabean Jews in the 2nd cent. BC; original home of Herod the Great
DECAPOLIS = "Ten Cities" – a league of ten semi-independent Greek cities next to but not part of first-century Israel, including Scythopolis, Pella, Gerasa, Gadara, Hippos, Dion, Philadelphia, Abila, Raphana, and Damascus
---
Roman PROVINCES important during the Expansion of Christianity in the First Century: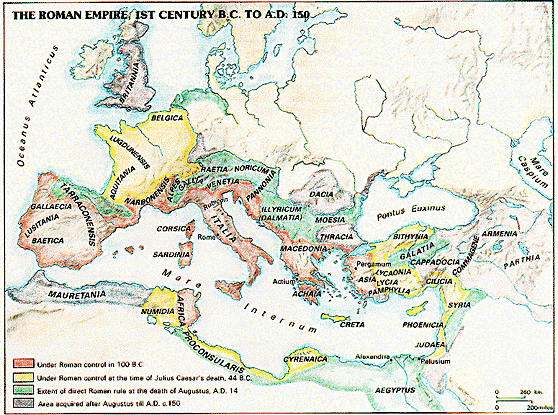 SYRIA – province including most of the Holy Land up until 70 CE, except when parts are ruled by various Herods
Damascus – ancient center of Syria; site of conversion of Saul/Paul (Gal 1:17; 2 Cor 11:32; Acts 9:1-25; 22:5-11)
Antioch – 3rd largest city of Roman empire; early Christian center (Acts 11:19-30; 13:1-3; 14:24–15:35; 18:22-23)
CILICIA – region of very early Christian missionary activity (Gal 1:21; Acts 6:9; 15:23, 41; 23:34); today's SE Turkey
Tarsus – home city of Saul/Paul; major university (Acts 9:11, 30; 11:25; 21:39; 22:3)
CYPRUS – island in Eastern Mediterranean; homeland of Barnabas; first stop on first missionary journey of Barnabas & Paul (Acts 4:36; 11:19-20; 13:4-12; 15:39; etc.)
Salamis & Paphos – two cities on Cyprus visited by Barnabas & Paul (Acts 13:4-13)
PAMPHYLIA – small coastal region south of Galatia
Perga & Attalia – port cities visited only briefly by Barnabas and Paul on their first journey; John Mark left them from Perga (Acts 13:13-14; 14:25)
LYCIA – small coastal region, southwest of Pamphylia
Myra – port city; brief stop on Paul's final journey (Acts 27:5); home of 4th-century bishop St. Nicholas
GALATIA – distinguish the pre-Roman Kingdom of Galatia (later called "Northern Galatia"), with capital Ancyra, and the probable area of Pauline ministry in "Southern Galatia," incl. the regions of PISIDIA & LYCAONIA
Antioch, Lystra, Derbe, Iconium – cities visited by Barnabas & Paul in Southern Galatia (Acts 13:13–14:24; 16:1); note that this "Pisidian Antioch" is different from the "Syrian Antioch" mentioned above
MACEDONIA – area of "Europe" where Pauline mission first spreads (Rom 15:26; 1Cor 16:5; 2Cor 1:16; Acts 16:6–17:15)
Philippi – early Pauline community; Roman colony (Philippians; 1 Thess 2:2; Acts 16:11-40; 20:6)
Thessalonica – early Pauline community (1 & 2 Thessalonians; Acts 17:1-14, also nearby Beroea)
ACHAIA – core region of ancient "Greece" (1 Thess 1:7-8; Rom 15:26; Acts 18:12, 27; 19:21)
Athens – Pauline mission attempted, but unsuccessful (1 Thess 3:1; Acts 17:15-34)
Corinth – major Pauline center (Acts 18:1-18; 20:2-3); many letters to & fro; trial before proconsul Gallio (Acts 18:12);
its two ports were Lechaion and Cenchreae (Rom 16:1)
ASIA (MINOR) – heavily populated region, in modern-day South-Western Turkey; many famous cities, incl. most of the "Seven Cities of Revelation" (Rev 2-3); ancient center in Pergamum
Ephesus – major Pauline missionary base in mid-50's (Eph; 1Cor 15:32; 16:8; 1Tim 1:3; Acts 18:19-19:41; 20:16-38); later also a center of Johannine Christianity (Rev 1:11; 2:1)
Colossae & Laodicea – Paul (or one of his followers) wrote letters to the Christians in both these cities (Col 2:1; 4:13-16; also Rev 1:11; 3:14)
Ephesus, Smyrna, Pergamum, Thyatira, Sardis, Philadelphia, Laodicea – the cities of the seven churches of Revelation (Rev 1:11; 2:1–3:22)
Patmos – small island in the Aegean Sea, near Ephesus; where John, the author of Revelation, was (Rev 1:9)
CRETE – large Mediterranean island south of Aegean Sea; visited by Paul on his journey to Rome (Acts 27:7-21; Titus 1:5)

MALTA & SICILY – Mediterranean islands south of Italy; also visited by Paul on his journey to Rome (Acts 27:39–28:10; 28:11-12)

ITALIA – central Roman province covering most of modern-day Italy (Acts 10:1; 18:2; 27:1-6; 28:11-15)
Rome – capital of the entire empire; Christian community there long before Paul (Romans; Acts 19:21; 23:11; 28:16-31)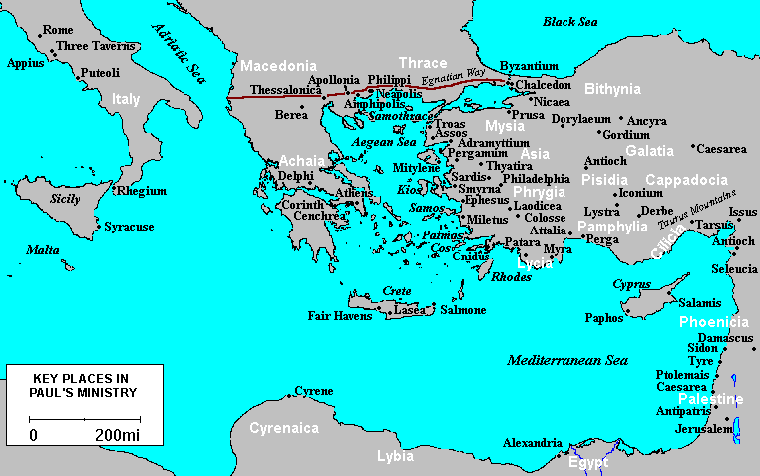 ---
Return to the HOME PAGE of Felix Just, S.J.
This page was last updated on July 14, 2018
Copyright © 1999--2018