Biblical Art by John August Swanson
Compiled here by Felix Just, S.J., Ph.D.
---
John August Swanson is a world-renownded contemporary artist whose works include many colorful depictions of stories from the Bible and other religious themes. Born in 1938, he has lived and worked most of his life in Los Angeles, CA.
Many of Swanson's beautiful works are on display in churches, universities, and museums around the world, including three museums of the Smithsonian Institution in Washington, the Art Institute of Chicago, Harvard University's Fogg Museum, the Tate Gallery in London, the Bibliothèque Nationale in Paris, the Vatican Museum of Modern Religious Art, and many other institutions. Some major exhibitions open to the public include:
Some of Swanson's art works are still available for collectors as limited-edition serigraphs, and others are available for purchase as posters or cards. Dozens of his works are also featured in published books and on book covers.
This webpage features only a few of Swanson's many inspiring works of art, sorted in biblical order. Enjoy!
Artwork related to the Old Testament:
---
Artwork related to the New Testament:
A Visit
(Luke 1:39-56)
[Serigraph & Card]

Nativity
(Luke 2:1-7)
[Card]

Shepherds
(Luke 2:8-20)
[Card]

The River
(Mk 1:9-11; Mt 3:13-17)
[Card]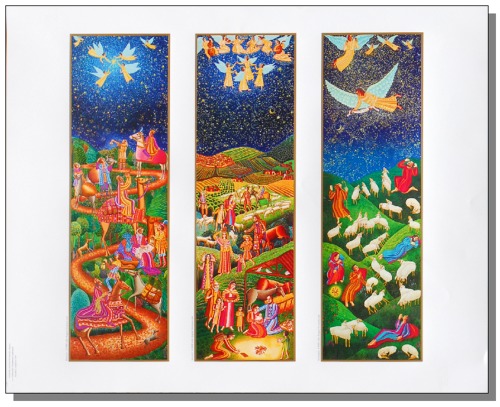 Christmas Triptych
(Left: Epiphany, Center: Nativity, Right: Shepherds)
(Matt 2:1-12; Luke 2:1-7; Luke 2:8-20)
[Poster & Card]

Cast Your Nets
(Luke 5:1-11)
[Poster]

Loaves and Fishes
(Mark 6:35-44; Matt 14:15-21; Luke 9:12-17; John 6:1-15)
[Serigraph & Card]

Prodigal Son
(Luke 15:11-32)
[Card]

Story of the Prodigal Son
(Luke 15:11-32)
[Serigraph & Card]

Take Away the Stone
(John 11:38-45)
[Serigraph & Card]

Entry into the City
(Mark 11:7-10; Matt 21:6-11; Luke 19:35-40; John 12:12-16)
[Giclee]

The Last Supper
(Mark 14:17-25; Matt 26:20-29; Luke 22:14-23)
[Serigraph & Card]

.....
Agony in the Garden & Kiss of Judas
(Mark 14; Matt 26; Luke 22)
Crucifixion
(Mark 15; Matt 27; Luke 23)
.....

Deposition & Burial
(Mark 15; Matt 27; Luke 23)

Celebration
(cf. Acts 2:1-4)
[Card]

St. Michael & the Archangels
(Revelation 12:7-9)
[Serigraph]

Mosaics Created from Swanson's Paintings:
The River (Mark 1:9-11)
installed at St. Matthew's Lutheran Church, Glendale, CA
The Great Catch (Luke 5:1-11)
installed at Concordia University, Irvine, CA

Artwork related to Religious Themes:
More Works with Religious Themes:
Journey through the Wilderness (1988) – Day Book
River Journey (1989) – Day Book
Star Mountain (1981) – Day Book
Artwork related to Other Themes:
CIRCUS LIFE:

Acrobats (1986) – Etching
Boy Joins the Circus (1992) – Day Book
Carousel (1975) – Poster
Chorus of Horses (1986) – Day Book
Circus Gallop (1986) – Etching
Circus Horses (1982) – Lithograph
Flying Trapeze (1986) – Etching
Good with the Golden Egg (1987) – Day Book
Good with the Golden Egg (1987) – Serigraph
Jester (1989) – Day Book
Lion Tamer (1986) – Etching
Magic Rabbits (1986) – Day Book
Star Clown (1986) – Day Book
Star Clown (2008) – Serigraph
Tumblers (1986) – Etching

MUSIC & OPERA:
DAILY LIFE & WORK:

Building the City (1973) – Day Book
House Painter (1975) – Day Book
Inventor (1975) – Serigraph
Morning Suite (1979) – Ten Works
Power to the People (2006) – Poster
Rainbow City (1997) – Serigraph
Restaurant (1974) – Day Book
School Room (1987) – Poster
Time to Heal (1989) – Card only
Train Station (1975) – Day Book
Books by John August Swanson and/or Featuring His Artworks:
Related Webpages:
John August Swanson - brief article on Wikipedia
"Art changed this artist and encouraged him to share his gifts" - an article by Kristin Lukowski of The Michigan Catholic (Archdiocese of Detroit), August 15, 2008
"Artist John August Swanson and His Images of Francis of Assisi" - a cover article by Jack Wintz, O.F.M.; published October 2002 in St. Anthony Messenger
"Swanson Art at Candler" - the Candler School of Theology at Emory University (Altlanta, GA) holds the world's largest collection of Swanson's works
"John Swanson at Candler School of Theology" - a 2-minute introductory video from Emory University, uploaded to YouTube on March 23, 2009
"Hues of Joy, with John Swanson" - a 28-minute video, from Wordnet Productions, by Fr. Michael Manning, SVD; uploaded to YouTube on Sept. 26, 2011
"Artwork at WorkingPreacher.org" - featuring the works of John August Swanson
---
All Artworks: Copyright John August Swanson

Return to the index of Biblical and Religious Art
Return to the Homepage of Catholic-Resources.org
This page was last updated by Felix Just, S.J., Ph.D. on October 26, 2017